School Assemblies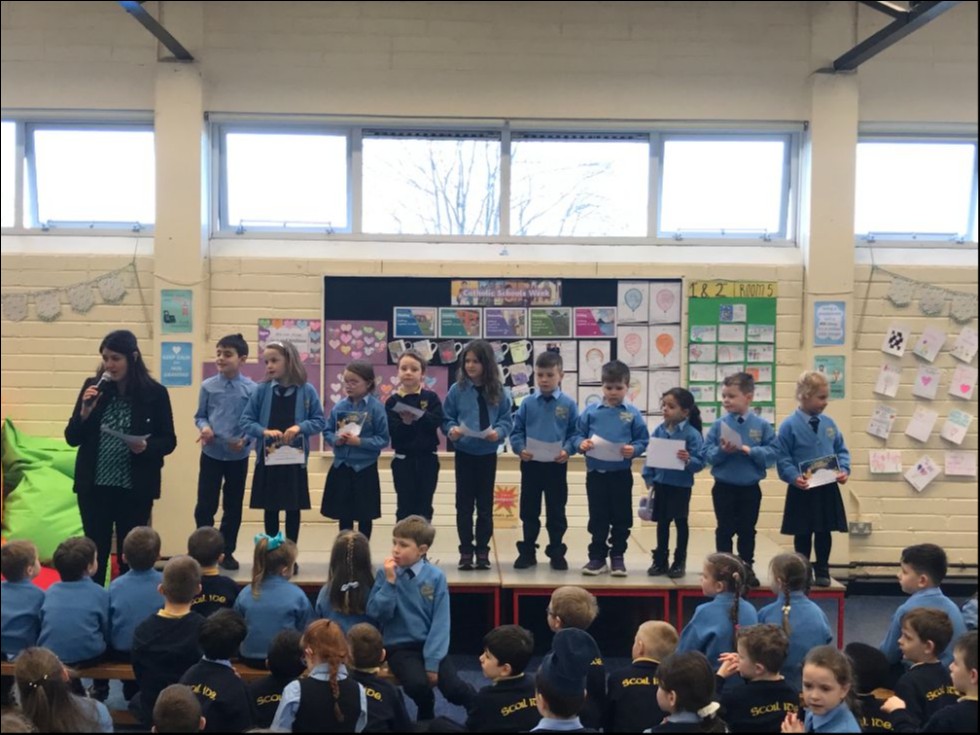 On Friday the 27th January, we had our second school assembly of this school year. It was a busy one with lots of good news and rewards to share.
We started it with a reflection of the work we did during Catholic Schools Week. Ms. O'Brien led us with a prayer followed by some pupils from each class sharing what their classes did during the week to celebrate Catholic Schools Week. We then said the Our Father altogether.
After that, Ms. Cunningham's 1st class did an amazing poem recital of "The Wobbly Tooth".
Our Principal Ms. Keane then awarded two pupils from each class with a Principal's Prize each. Well done to all the boys and girls who worked so hard this month to achieve their reward.
Ms. Moore and the Green School Committee had some reminders and updates for us with regard to our Green School's project.
The Student Council shared details of their upcoming events; a non-uniform day and Friendship Week.
We were then treated to another fantastic performance, this time by Ms. Warde's 1st / 2nd classes who treated us to an Haka Gaelach.
And finally, Ms. Doherty and some pupils from 3rd class shared a summary of the work that has been going on with the Food Dudes programme.
____________________________________________________________________________
On Wednesday the 30th November, we had our first school assembly since 2019. It was very special to have all our pupils and staff together again to share news and celebrate achievements.
Our Student Council updated us on the work that they have been doing.
Our Green School committee shared their efforts and plans to make our school more environmentally friendly.
Ms. Keane presented our November winners with their Principal's Prizes.
Ms. Kelly presented pupils with their Handwriting Heroes awards.
Our school football captains shared their news, plans and successes.
Scoil Íde Primary School, Clondalkin, New Rd, Brideswell Commons, Dublin 22
Phone: 01 459 2766